Please send references to errors or suggestions for improvement on this page to Geneva@NC-Airparks.com.
See more pictures of Duchy Airpark Click HERE.
Lots Available For Sale at the Duchy Airpark
These lots are individually owned. List Prices vary because the price for each lot is
determined by the owner. Many owners have reduced prices to encourage offers.
Priced to Sell.....Call today 704-798-5214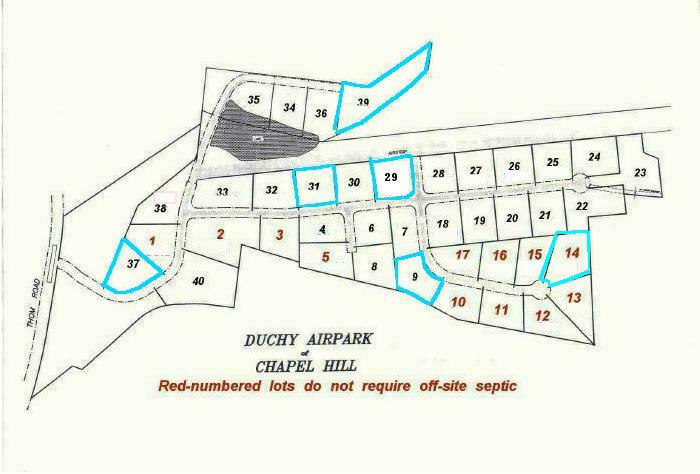 Click on each lot number for more information and pictures of individual lots. Plats available below.
| | | | | | |
| --- | --- | --- | --- | --- | --- |
| Lot # | Address | Acres | Lot Location | Price | Owner |
| | 5419 Brownstone Dr | 1.17/0.33* | Taxiway Lot | $62,500 | Resale |
| | 5468 Brownstone Dr | 1.14 | Runway Lot | $62,000 | Resale |
| | 5242 Osprey Dr | 1.56/0.42* | Runway Lot | $69,000 | Resale |
| | 5226 Osprey Dr | 1.30/0.29* | Runway Lot | $85,000 | Resale |
| | 5028 Duchy Dr | 1.27 | Taxiway Lot | $49,500 | Resale-Price Reduced to Sell |
| | 5193 Duchy Dr | 2.08/0.34* | Taxiway Lot | $110,000 | Resale |
For information about these lots, Just Ask HERE.
Call Geneva 704-798-5214. Email geneva@nc-airparks.com
Click on each lot number below for more information & pictures of individual lots.
Scroll down for Plat links available below.
Black numbered lots convey with an off-site septic lot.
Red numbered lots will have an on-site leach field.
Prices are negotiable so make an offer on the lot of your choice.
Just listed Lot 14 is a wooded taxiway lot on the cul de sac of Brownstone Dr.
Lot 14 would work well for someone who is looking for privacy.
Lot 9 has been cleared and is ready to build. Although Lot 9 is a taxiway lot, it overlooks the airpark community with great views and has a short taxi to the runway. Large rock for rock walls, rockwork
and rock landscaping have already been excavated. Lot 9 is priced to sell.
Owner motivated, negotiable and open to all offers.
Note: New house built on Lot 10 adjacent to Lot 9.
Lot 29 and Lot 31 are both runway lots and each may be suitable for a walk-out basement
if so desired. These lots are not my listings so you will need to request information about them.
Lot 37 is a beautiful lot with trees located near the entry gate in this gated community.
This is a great location for the owner who does not want to live right on the runway.
Lot 37 will have an on-site septic.
Lot 39 was chosen by the owner because he liked the size and privacy and felt
it was a great site for a southeast facing house. Over two acres, this is a lovely
taxiway lot with trees and a superb view of the runway. You will have unparalleled
privacy in this location just off the cul de sac at the end of Duchy Drive.
Acreage information is from the plat maps at the Duchy.
Click here for plat maps: Plat 1, Plat 2, Plat 3.
Click on the Plat Links to get a downloadable pdf map for each of the three plats.
Individual lot property taxes available.
Call Geneva 704-798-5214. Email geneva@nc-airparks.com
Interactive Map